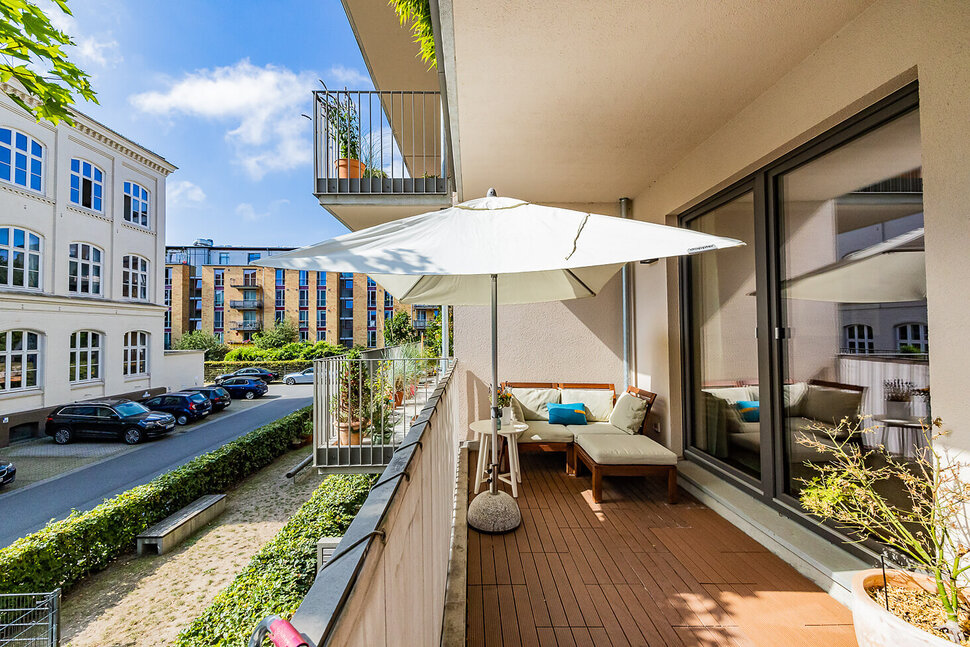 People love living in Hamburg-Ottensen
Strictly speaking, Hamburg-Ottensen is not an independent district but is actually a part of Hamburg-Altona. Ottensen is by no means a lesser neighborhood, though, and people love loving here! The colorful and cheerful street life is full of everyone from schoolchildren to vegetable sellers to architects to artists and advertisers. Different nationalities, religions and cultures mingle here, giving the district a unique character. Once a Danish fishing village, later a home to factories and their workers, today this is one of the most popular and colorful quarters of Hamburg.
Beautiful old buildings, many of which have Art Nouveau facades, characterize Hamburg-Ottensen. One sees here pointed and curved historical buildings built to fit the old, irregular streets. There are also the former factory buildings which have almost all been converted into lofts and condos with lovely courtyards. Modern buildings are increasingly part of the streetscape.
Short profile Hamburg-Ottensen
great farmer's markets, organic markets
high-quality specialty stores & small shops
many pubs, cafés and great restaurants
lively and authentic
colorful and individual
the not-to-be-missed Altonale street festival
many furnished apartments
many Art Nouveau apartments
modern loft apartments, partly on top of historic buildings
green courtyards
close to the banks of the Elbe River
distinct cultural scene
Tastes from around the world
Many bars, cafes and restaurants liven up the neighborhood. Whether you want a mojito or a latte – head to the Alma-Wartenberg-Platz or the Ottenser Hauptstraße. You can also find good restaurants on the Große Brunnenstraße. For a quick meal, try the food court in the Mercado shopping center where you'll find Turkish, Asian, and Indian cuisine as well as organic products from Germany. Vegans will be thrilled with all their options in Ottensen. You can meet the locals and find the freshest produce at the farmer's market. There are 4 markets a week, two of which have only organic vendors. If you're here in the summertime, make sure and stop for ice cream at Eisliebe. Just look for the ice cream parlor on Reitbahn with the line stretching out the door!
Shopping on the Ottenser Hauptstraße
Although you will see chain stores close to the Altona train station, there are many small shops with unique products and great personal service on the Ottenser Hauptraße and Bahrenfelder Straße. From handmade sweets to an organic bakery to trendy clothing stores, you can find it all in Ottensen. If you are looking for the right birthday or Christmas present, this is the place to go.
Leisure & Culture in Hamburg-Ottensen
There are regular concerts and events in the Fabrik on Barnerstraße. The building's pink façade and industrial elements ensure you can't overlook this venue. The Zeisehallen, a former propeller factory, is home to a cultural center. Here you will find an art house cinema (Zeise Kinos), restaurants, offices, art galleries and unique artisans shops. Theater lovers will enjoy a visit to the Monsun Theater or the Thalia Theater on Gaußstraße. The UCI Kinowelt is a mainstream movie theater and is located just off the access road to the A7 highway.