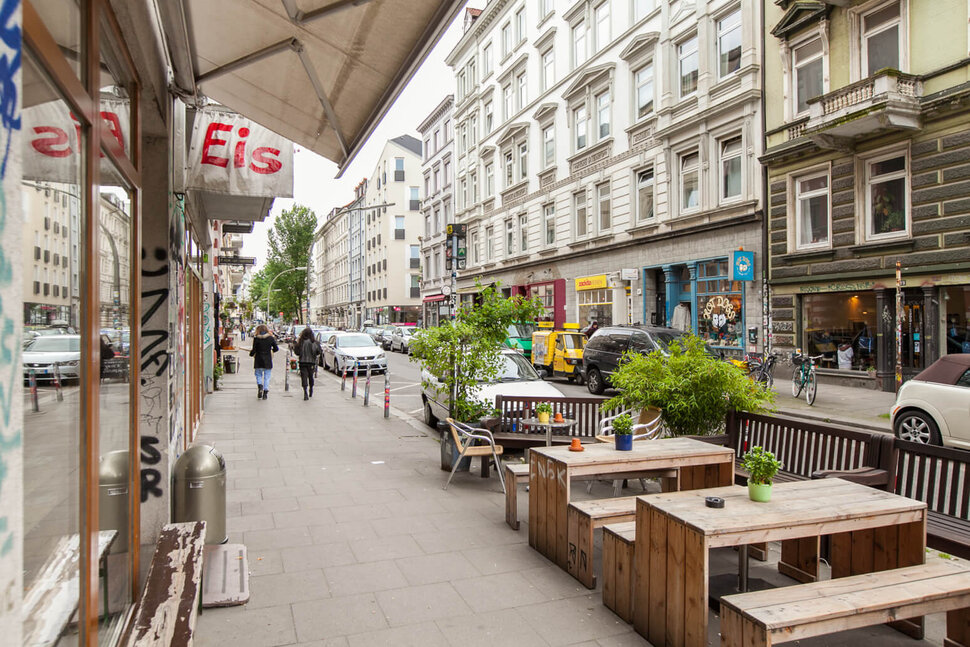 Temporary housing in Hamburg-Karolinenviertel, how is living here?
The Karolinenviertel - also known as Karoviertel - is colorful, multicultural and trendy. Although this is not really an independent district but officially belongs to St. Pauli, most people perceived it as one. It is especially popular among young people.The neighborhood is located between St. Pauli and Sternschanze and its atmosphere fits with those two districts. This is this alternative scene which consists of long-time residents, students and many different nations. Buildings are historic Wilhelminians, some carefully restored, some remain in the trendy Shabby-Style. In some backyards there are even pretty little gardens.
Short profile Hamburg-Karolinenviertel
alternative scene
multicultural lifestyle
creatives, individualists and students
Knust: venue for many concerts
park: Planten un Blomen
exhibition hall
Heiligengeistfeld (place for events)
local music scene
food and drink: healthy and ecological, unusual and tasty, diverse Bistros
shopping: many small individual shops of young designers along the Marktstraße, antique dealers, record stores
That creative "je ne sais quoi"
The Karoviertel has that certain creative "something," a colorful, lively and popular feel of disorder and togetherness which has now become a tourist attraction. Creatives, designers, the traditional alternative scene and the multicultural population bring a certain flair that can be felt distinctly on Marktstraße. From second-hand shops to designer and fashion shops, to cult bars and tattoo studios, you can find it all here. If you'd like to make an evening of it after window shopping or a piece of cake, have a beer in one of the many bars or head in the direction of Sternschanze and the Reeperbahn.
The sounds of a piano lesson out of an open window, Cuban music from a street café, an accordion player walking through the streets, record stores promoting local artists, concerts in the numerous clubs, and relaxed reggae sound through the rolled-down window of a car. The variety of sounds is incredible and you can succumb to the pull of a different mood on each corner. Life is lived on the street here. The neighborhood is colorful and varied, just like the people who live here. The best way to experience the neighborhood is simply to let yourself drift through the streets.
The Karoviertel is a densely populated, very urban space. It opens up somewhat at the borders, such as at the Heiligengeistfeld. Centuries ago this was the location of a convent. Now you will find a bunker with businesses and a training area for media and art. There is also the big open area which is the home to various events. A recurring event is the Hamburger DOM, a carnival for young and old.
The Karolinenviertel, generally called Karoviertel, is not an official district. It's a small area between the exhibition halls and Sternschanze. As the population here is relatively young, there is a distinctive street life and a lot of energy for initiatives such as urban gardening. Various festivals have also been established. In addition to the many green areas, residents created several playgrounds in the courtyards. Very little traffic, many cafes and individual shops make for a wonderful place to hang out.