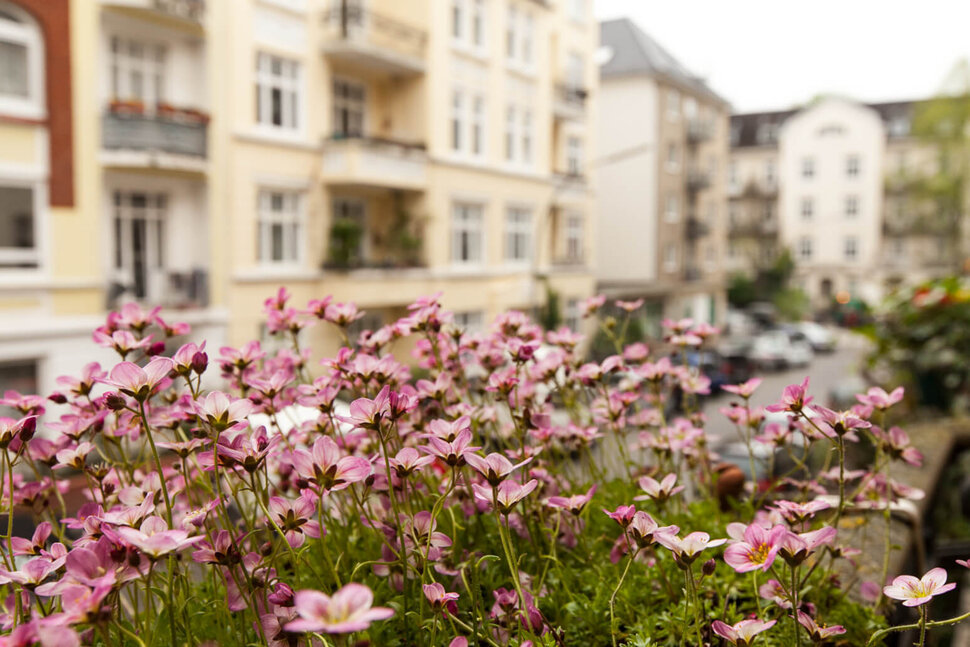 Temporary housing in Hamburg-Hoheluft, how is living here?
The Hoheluft district attracts both families and students who appreciate its relaxed flair as well as its proximity to the University of Hamburg and the lively nightlife in Schanzenviertel.
Here people live in beautiful old buildings with wonderful facades and balconies. Local apartments with high ceilings, rich stucco decorations, and great hardwood floors are in high demand. There are many charming and leafy side streets, several parks in the area (Unna Park, Mansteinpark, Schanzensternpark) and a few of the beautiful Alster canals.
Short profile Hamburg-Hoheluft
lively, central neighborhood
many older buildings and some post-war buildings, a number of parks and many trees
historical landmark group of apartment buildings on Grindel (the Grindelhochhäuser)
lots of shops, pubs and restaurants
University and University Clinic UKE
jogging path on the Isebek canal, swimming pool and fitness club "Kaifu-Lodge"
various farmers' markets
culture such as Holi arthouse cinema and musical theater Delphi Showpalast
hardly any parking but very good public transportation connections
Anything your heart desires
You can reach the city center by bicycle in less than 20 minutes. There are lovely destinations such as the Isebek canal and the Außenalster within easy walking distance. Go for a stroll along Eppendorfer Weg, Hegestraße and Lehmweg to discover new restaurants and cafes. There are also lots of wonderful, small, unique shops. No matter whether you are looking for jewelry, upscale children's clothing, antiques, fashion or gourmet specialties, Hoheluft has it.
On Tuesdays and Fridays the neighborhood congregates at the famous Isemarkt. Here you can buy fresh local produce, Turkish specialties or delicious handmade chocolates. This, probably the most beautiful farmerss market in Hamburg, is easy to reach via a short walk along the Ise canal. The market is sheltered by the elevated metro line between the stations Hoheluftbrücke and Eppendorfer Baum. If you ever live in this lovable neighborhood district, you'll never want to leave.