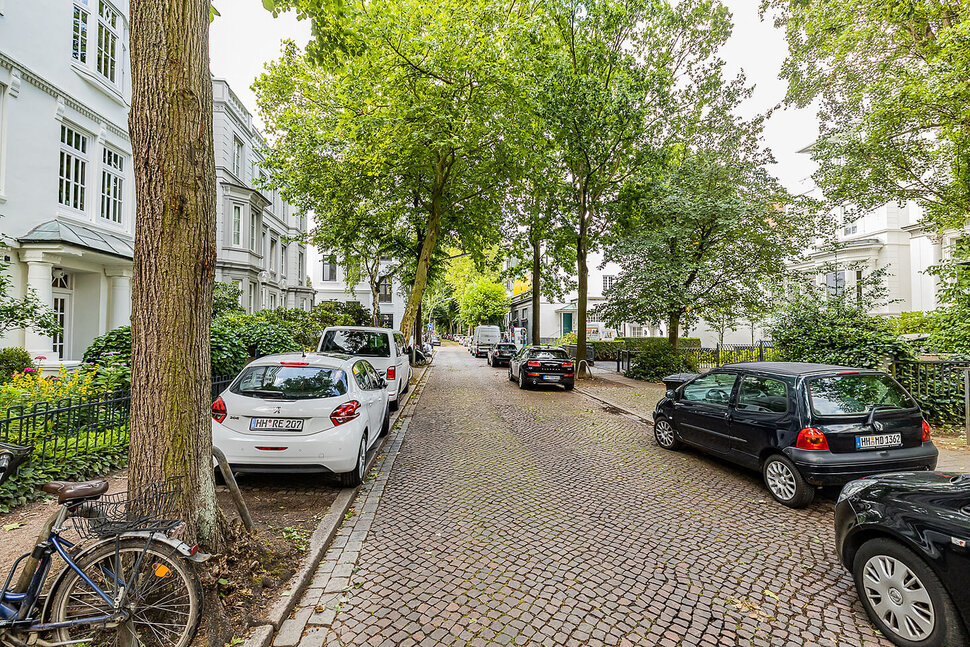 Temporary housing in Hamburg-Harvestehude, how is living here?
The Harvestehude district is a Hamburg gem. It is located near the Außenalster and the city center. This upscale residential area with beautiful old villas and apartments has leafy-green surroundings. As to be expected, you need the necessary cash if you want to live here. The residents are mostly old-established Hamburg families, so you will be neighbors with doctors, lawyers, business people and people from the media industry. On the other hand, the proximity to the university and its many students lends the area a colorful vibrancy.
Short profile Hamburg-Harvestehude
elegant green district, near the city center
promenade on the Alster, Außenalster
imposing townhouses, tasteful villas and Jugendstil buildings
the listed ensemble of high rise buildings on Grindelallee, the Grindelhochhäuser
the University of Hamburg: the student quarter brings vitality and diversity to the area
consulates and embassies
lovely shops, Pöseldorf
a variety of cultural activities: art house cinema (Abaton), ethnology museum (MARKK), theatre (Kammerspiele), and live music (Logo)
various farmer's markets
world-class tennis stadium (Rotherbaum)
Max Planck Institute, media companies
good transportation connections, impossible to find parking
Living in Hamburg Harvestehude
Impressive townhouses and pretty villas are situated on quiet and green side streets. There is hardly a more beautiful and stylish place to live in Hamburg. The Pöseldorf district's noble villas make quite an impression. Rents are in the higher segment here as property ownership tends to be the norm. A range of temporary apartments is available, but depending on location and furnishing standard, in the medium to higher price ranges.
The surroundings
The city center is so close that you can even walk there to hit the shops, or you can walk to the boutiques in the neighboring university district. In addition to the weekly markets on Turmweg and Rothenbaumchaussee in front of the MARKK museum, the residents also buy their fresh vegetables and much more at the particularly beautiful Isemarkt. Stretched out for 1 kilometer under the Hochbahn route between the stations Hoheluftbrücke and Eppendorfer Baum, the market is the place fresh and highly sought-after products for kitchen and household!
Recreation and leisure
The Außenalster and the trails along the banks of the Alster offer plenty of leisure time fun. The green surroundings invite you to go jogging and cycling, or sailing, rowing and kayaking on the Außenalster.