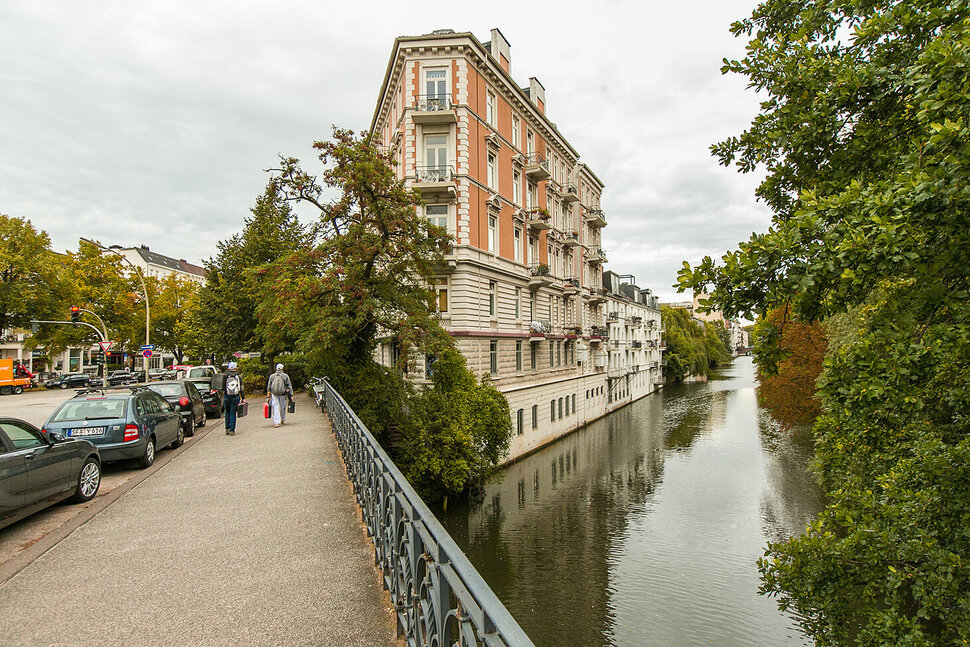 Temporary housing in Hamburg-Eppendorf, how is living here?
Central, elegant, and with lots of trees and water– Eppendorf is one of the most popular neighborhoods in Hamburg. Anyone looking for an apartment here should expect to dig a little deeper into their pockets. The district is known for its imposing Wilhelminian buildings that have apartments with stucco ceilings and inlaid parquet. You wouldn't turn up your nose at the other choices though: chic villas right on the waterfront, terrace houses and ivy-covered brick homes. Much to the joy of students, Eppendorf does have some affordable housing in the former working-class quarters on Schrammsweg and Frickestraße.
Short profile Hamburg-Eppendorf
many historical buildings
good range of temporary furnished apartments
elegant historical Wilhelminian buildings with high stucco ceilings and parquet floors
urban flair paired with backyard oases, lots of trees and water
predominantly upscale lifestyle, high earners
Isebek canal, Alster and Mühlenteich
boat rental stations
Isemarkt – famous farmer's market
upscale stores, designer shops, delicatessens
elegant restaurants
Cafes and trendy bars
Alma Hoppes Lustspielhaus
Holthusenbad – swimming pool with beautiful Art Nouveau architecture
University Clinic Eppendorf (UKE)
See you around in Eppendorf
The Eppendorfer Landstraße begins at Eppendorfer Marktplatz, and this is the street with many cafes, restaurants, luxury shops and boutiques. When you walk along the streets of this neighborhood, you'll see many well-heeled young families with strollers, distinguished long-time residents of Eppendorf, and successful professional singles and couples. There is the sense that "to see and be seen" is important, but in a charming way.
The Isemarkt, for many the most beautiful and best farmer's market in Hamburg, is famous throughout Germany. People from all over Hamburg come here every Tuesday and Friday to enjoy a chat and buy beautiful produce or specialties. The market is set up underneath the elevated rail, so salespeople and customers alike are protected from the rain. In the evenings, the district remains rather quiet and cozy.