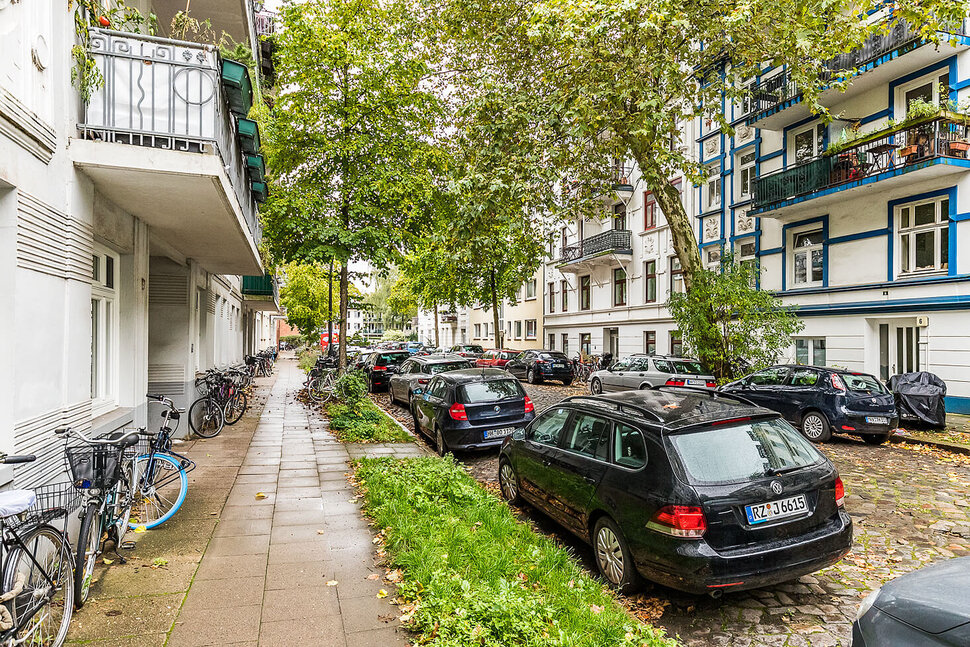 Temporary housing in Hamburg-Eimsbüttel, how is living here?
Eimsbüttel is a easy-going neighborhood. You can escape the bustle of the city for a few moments by taking a break in one of the many cafes or strolling along the Osterstraße. The district is very popular with students, young families, and all those who prefer a quieter lifestyle but still want to live in the city center while enjoying a neighborly atmosphere.
Desirable residential area
The area has predominantly charming older buildings with high ceilings and original wood floors. Beautiful facades and balconies line many of the small, quiet streets. Walking down those streets, you can spy many green courtyards or even small gardens. There are many furnished apartments in Eimsbüttel. Most of which are decorated in a modern, creative style.
Short profile Hamburg-Eimsbüttel
good amount of interim housing
lively and popular neighborhood with quiet residences
beautiful old buildings surrounded by lots of green spaces
a number of parks
larger apartments are a rarity
families, students, singles, couples
good shopping (Osterstraße)
many bars and restaurants
various farmer's markets
close to the green space on the canal (Isebekkanal) and famous Isemarkt
Shopping on Osterstraße
On Osterstraße, the main shopping street in Eimsbüttel, you will find a mix of organic food stores, flower shops, bookstores, ice cream parlors, laundries etc.
Gastronomy and tasty treats
There are lots and lots of cafes, restaurants and bars in Eimsbüttel. Restaurateurs are eager to tap into Eimsbüttel's potential, so there is no lack of wonderful cuisines. You can try dishes from Spain, the Orient, Austria, Italy, and around the world. If you'd like to find a new favorite local happy hour, there are a number of nice bars to choose from. You can have a leisurely breakfast or sip cocktails at Café May. Make sure to get up early for freshly baked Franzbrötchen (a Hamburg specialty) at the prize winning bakery die kleine konditerei. The most popular place to breakfast is Glück & Selig (be sure to make reservations).
Cycling like the dutch (or the danes?)
If you insist on driving in Eimsbüttel, prepare for frustration because parking is a problem. This is just one more reason to grab a bicycle. It only takes 15-20 minutes to reach downtown, and the trendy Sternschanze district is not far either.
The Kaifu-pool and fitness center (on Kaiser-Friedrich-Ufer) is very close. For a little walk or your daily jog, there are wonderful paths in the park "Am Weiher", the Mansteinpark or along the Isebek canal.
Public transport
The U2 line will get you to the city center in approximately 10-15 minutes. Or you just change from the U2 into the U3 at "Schlump" train station. The U3 is a circle line which stops at many of Hamburg's popular destinations. The Kieler Straße brings you right away to the A7 (AS-Stellingen)