Modern furnished two-room apartment by the Osterbekkanal in Hamburg-Barmbek
furnished apartment, Hamburg-Barmbek, Alter Teichweg
Living room
Kitchen
Bedroom
Bathroom
Floorplan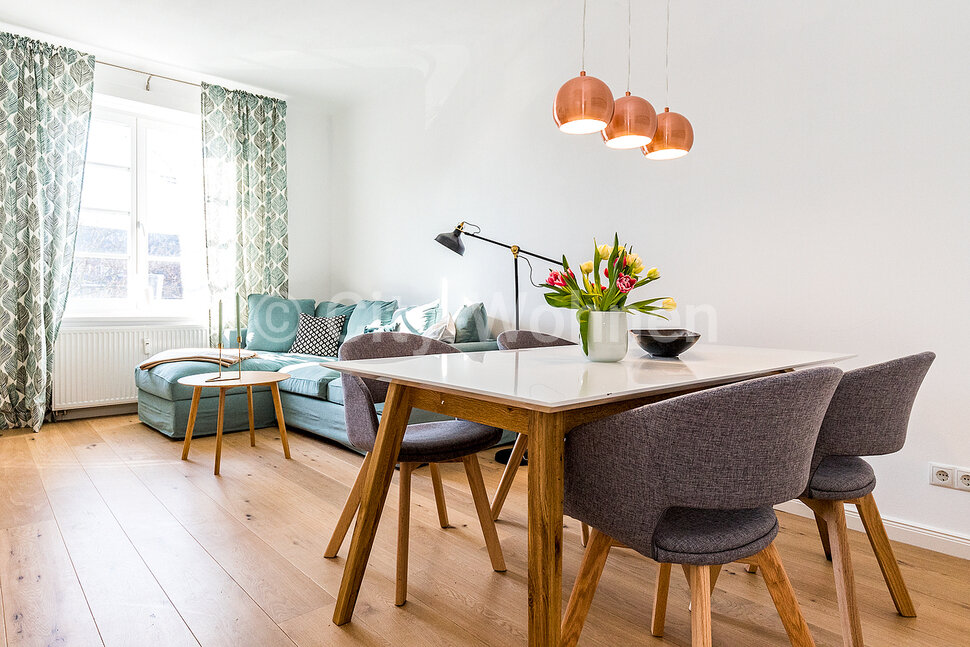 1

/ 32
































Details
Internet
TV
Washing machine
Dishwasher
Balcony/garden
For non-smokers only
Details
Rent:

1550 €/month

Deposit:

1-2 month rent
Suitable for:

2 Persons
Size:

59 m², 2 Room/s

Pets:

not allowed
Details apartment
Living room, bedroom, kitchen, heated towel rail, pantry, built in 1928, apartment, 2nd floor, balcony, parquet floor, central heating, non-smoking apartment
Details amenities
WLAN, broadcasting fee included, flat screen TV, cable connection, Internet TV/ IP, HD TV, dishwasher, tea towels, cookware, cutlery, coffee machine, espresso machine, kettle, toaster, blender, extractor hood, ceramic hob (4 hobs), oven, double bed
Surroundings
In beautiful surroundings to the Osterbek Canal. Lots of restaurants and bars nearby.
Description
Lovely, fully equipped 2-room apartment with balcony and loggia on the 2nd floor of a multi-family house built in 1928. Located directly on the Osterbekkanal in Hamburg-Barmbek. The rooms are modern and friendly designed, in the whole apartment a beautiful parquet floor was laid. The apartment has 59sqm and is heated with central heating. There is a courtyard and a bicycle parking space in the yard can be used.
In the living room there is a comfortable sofa, a flat screen TV (58", cable, HD TV, Internet TV) and a dining table for 4 people. Another TV set is located in the bedroom,
The spacious kitchen (about 10, m2) is equipped with white built-in cabinets, a ceramic hob and extractor hood, an oven, a refrigerator with freezer. and a dining table with space for 2 people. A dishwasher is also available. Various kitchen utensils, cookware, dinnerware and dish towels are provided. From the kitchen you have a beautiful view of the landscaped courtyard and access to the small loggia (about 1,5 sqm.)
In the bright and friendly bedroom there is a comfortable double bed (160x200), a spacious chest of drawers, a closet and a flat TV, 42". From the bedroom you can get to the balcony (about 4 sqm.).
The modern shower room with window, which leads off the hallway, has a shower with glass partition, a large washbasin, toilet, towel heating and underfloor heating. There is also a storage room.
The furnished apartment is rented to a maximum of 2 people. Unfortunately, it is not suitable for a shared apartment. A dog or a cat are not allowed. The rent already includes the following costs: heating flat rate, water flat rate, electricity flat rate. The broadcasting fee is included. An internet connection can be used: WLAN / 50 Mbit. At the end of the rental period a final cleaning will be charged.
Recommended external content: Map

Energy performance certificate
Listed building (energy certificate is not necessary)
Year built: 1928
Good to know
How fast can I find a furnished apartment?
That depends on how decisive you are. If, for example, you register with us in the morning with a concrete booking request, there is a high probability that you can sign the lease agreement for interim living on the same day.
Registration form for lessees →
Can I book the interim apartment immediately?
You want to book a furnished apartment right away? Many lessors agree to rent their apartments without a personal appointment. Just register with us online and let us know which apartment you want to book directly. Then we'll take care of the arrangements. As soon as the lessor agrees, you will receive your booking confirmation and we will draw up the rental contract. As an agency directly on site in Hamburg, all apartments are known to us and were photographed by our photographer.
Can I visit the temporary apartment beforehand?
You are already in Hamburg and would like to visit the apartment before deciding? We've got you! City-Wohnen Hamburg lessors choose whether they keep the keys and make appointments directly with you or if City-Wohnen takes care of the keys, scheduling, and showing the apartment. You will always get an individual appointment. We do not have group appointments with many apartment applicants.
What is included in the rent?
Usually, the rent listed includes all ancillary costs. If any costs are not included, these exceptions are noted in the apartment description. In the case of a lump-sum rent, there is no further billing according to actual consumption. Sometimes consumption costs, electricity and water for example, are set as an advance payment. These are then billed according to actual consumption. After registering as a City-Wohnen customer you will receive a detailed description with all information about the rent.
You can find more information about the rent here: Rental price furnished apartment →
Do I have to pay a commission?
No. For you the lessee, the apartment brokerage is free of charge as per German law (Article 1, section 1a of the WohnVermittG).
Information about the broadcasting fee
The broadcasting fee is usually included. If it isn't, you must register the apartment with the public broadcasters (Rundfunkanstalt) and pay the fee yourself. This obligation exists even if there is no radio or television set in the apartment. The contribution is currently € 18.36 per month and per apartment, billed quarterly. (As of 01/23).
Read more about the broadcasting fee →
What services do City-Wohnen offer?
Lessors choose one of our City-Wohnen service packages. The services provided depend on the service package selected. For example, will you meet with the lessor directly for apartment visits and handovers or with the City-Wohnen team? It depends on the service package. Each apartment description has information about the service package so you'll know what to expect.
Where do I get the housing provider confirmation?
In general, registration with the Hamburg authorities is possible for all furnished apartments brokered through City-Wohnen. Lessors are legally obligated to provide this confirmation. In most cases, we prepare the housing provider confirmation for you.
Read more about the housing provider confirmation →
A note about floor plans
Our floor plans are a helpful tool for orienting you to the layout of an apartment and showing where features such as a balcony may be located. The floor plans are not to scale. The lessor provides City-Wohnen with their floor plan which City-Wohnen digitalizes and standardizes.
Apartment availability and updates
Our website is updated several times a day. Despite our best efforts to keep the website current, there may be short notice changes due to direct bookings, changes in dates or conditions, etc. Therefore, City-Wohnen Hamburg cannot guarantee availability, but if an apartment is already rented, we will be happy to keep looking for the perfect apartment for you!
Liability regarding apartment details
All apartment descriptions are based on information provided by the lessors. City-Wohnen therefore assumes no liability for the accuracy of the information. In particular, details regarding living space (given in square meters) has not been re-verified or re-calculated.
All apartments are photographed by City-Wohnen at the time of the initial commissioning. In some cases, the lessors' own photos are published if the photo session does not take place immediately after the commissioning. Whether or not there is an apartment inspection immediately before a handover depends on the service package selected by the lessor. The year of construction is not verified by an inspection of the building authority's file.
Energy certificate
City-Wohnen Hamburg is not liable for the energy certificate data. This information cannot be verified. Incomplete or expired energy certificates are to be supplemented or replaced by the lessors as soon as possible.