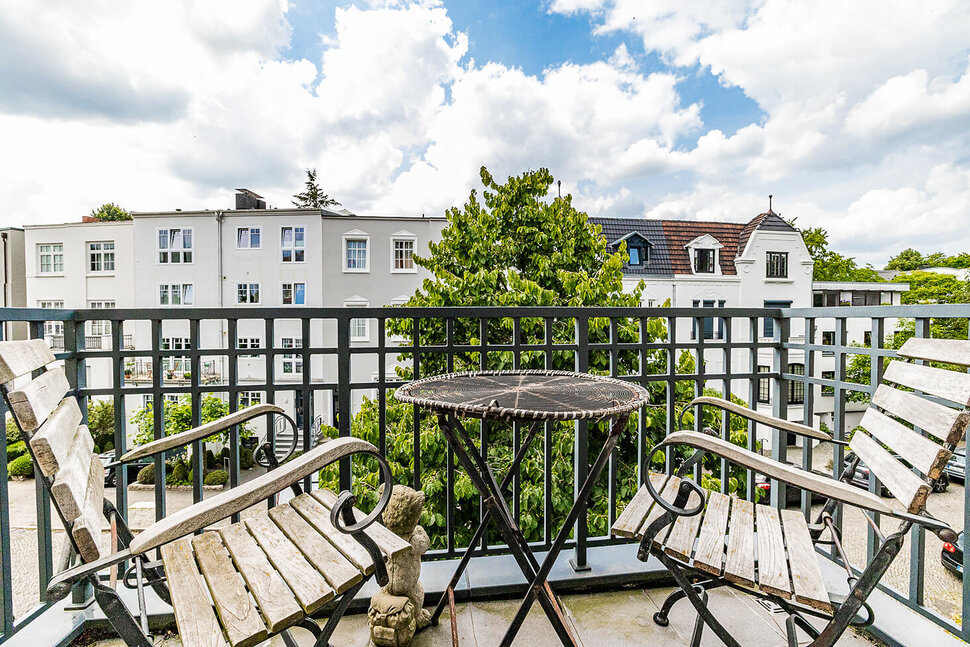 Temporary housing in Hamburg-Winterhude, how is living here?
Hamburg-Winterhude is a livable and lovable neighborhood. Characteristic of the neighborhood are the many green spaces, sumptuous villas, Art Nouveau architecture, and the canals that flow throughout the district. In good weather, you can explore these canals by boat and admire the white Hanseatic villas with their romantic gardens from the water.
Between the Stadtpark (city park) and Alster lake, find your own comfort zone in Winterhude's varied surroundings: magnificent villas on Bellevue overlooking the Alster lake, turn of the century Jugendstil architecture, red-brick apartment buildings from the era of Fritz Schuhmacher (such as you'll find in the former working-class neighborhood Jarrestadt), and the City Nord (an office complex from the 1960s). Lots of greenery and an interesting cultural scene are also characteristic of the district with the large park and smaller cultural institutions.
Short profile Hamburg-Winterhude
Stadtpark with lake and natural, outdoor pool
many canals
Winterhuder Marktplatz
Goldbekufer weekly organic market
Alster shore, boat rentals
planetarium in the Stadtpark
open-air concerts
arthouse cinemas Alabama and Magazine
Kampnagel cultural center (avant-garde art and modern dance)
comedy at the Winterhuder Fährhaus
Goldbekhaus (workshops, music and dance)
many restaurants and cafes for all budgets, from sophisticated to rustic
Stylish people
Those who live here do not want to leave any time soon. As you walk through the streets of Winterhude, especially along fashionable Mühlenkamp, you'll see dapper locals from old Hanseatic families dressed in the best brand names, couples with expensive strollers, and students on their bicycles. It is upscale and expensive here. Yet Winterhude still retains its down-to-earth charm.
People-watching
All of Winterhude is a stage! The locals enjoy their parts as they stroll along the sidewalk. Anyone who likes to see and be seen will have a wonderful time drinking a latte macchiato in one of the lovely cafes on Mühlendamm. "Casually chic and generally well-dressed" is the type of people you'll observe having their lunch break in one of Italian restaurants.
Furnished accommodations in Hamburg Winterhude
Well-preserved Jugendstil buildings with decorated facades and green courtyards are not uncommon here. The former working-class neighborhood Jarrestadt (now very popular among young people) is an ensemble of red brick buildings.
Window shopping
For a unique and often exclusive shopping trip, head over to Gertigstraße, Winterhuder Marktplatz and Mühlenkamp. Here you will find boutiques, flower shops, furniture shops and delicatessens. You'll find lovely fresh produce at the weekly organic market on Goldbekufer. There are many places to enjoy a coffee. We can especially recommend Café Stemheim on Schinkelplatz.
Leisure and culture
In the summer, it seems as if all of Hamburg comes to the gigantic Stadtpark (city park). People meet up to grill, jog, play, go canoeing and relax. You can go stargazing at the planetarium, enjoy live blues music in the cozy atmosphere of Landhaus Walter (in the middle of the park), or visit open-air concerts.
There is a lot of culture to enjoy in Winterhude. Charming, light comedies are the specialties of both Winterhuder Fährhaus and Alma Hoppes Lustspielhaus, Kampnagel culture center offers innovative events from theater to dance to music.
Take the bus, Gus…
Unfortunately, you cannot get from the heart of Winterhude to Hamburg's downtown by train. Taking the bus, however, is just as simple.