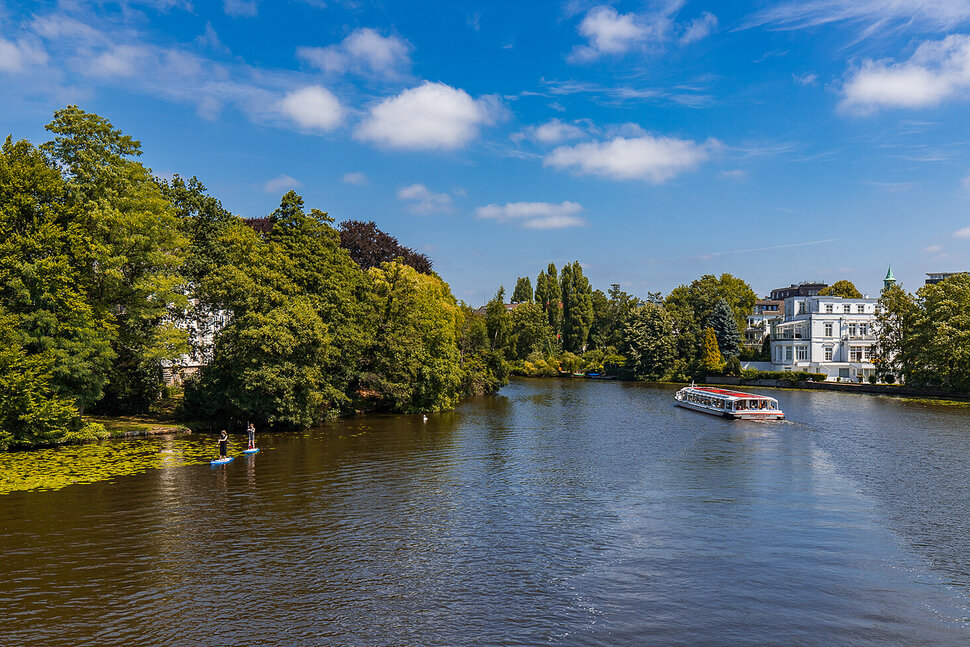 Temporary housing in Hamburg-Uhlenhorst, how is living here?
This neighborhood Hamburg-Uhlenhorst captivates us with its location on the Alster. Imagine drinking a freshly squeezed orange juice on the balcony, and enjoying a Franzbrötchen (a kind of cinnamon bun made only in Hamburg) all while taking in views of the lake and the Hamburg skyline - who could ask for anything more?
You can find entire streets lined with Art Nouveau facades here in Uhlenhorst. Many of the villas are virtually priceless and are passed on from generation to generation. If your budget is somewhat lower, there are wonderful options a bit farther from the shore. The architecture there is a mix of post-war red brick and newer buildings.
The name Uhlenhorst was coined in 1608. It referred to an abandoned homestead on the Alster near today's Marienstraße that was home to a number of owls. Buildings from that time did not survive, but there are buildings from other historical periods to enjoy.
Short profile Hamburg-Uhlenhorst
restful, tasteful, stylish and multifaceted
lovely old buildings and some villas with views of the Alster
located directly on the Alster where the Alster fleet docks
many canals for taking a private paddle tour
St Gertrude Church, the geographical center of Hamburg
services in Plattdüütsch in St. Gertrud, also beautiful concerts
Papenhuderstraße, lively shopping street with nice restaurants and small, owner-operated shops
the Uhlenfest festival is held in summer - street festival with focus on design and food
literary heart of Hamburg – The Literaturhaus on Schwanenwik is home to a bookstore specializing in contemporary literature and a restaurant and tearoom.
Immenhof flea market
Food and drink
This mainly residential neighborhood has a handful of high-end restaurants with upscale specialty cuisine, some small, Hamburg-style pubs, and the trendy bar "U-Trail." There is also "Fiedlers." This landmark café is located directly on a bridge (Langenzugbrücke) and is the perfect place to watch the arrivals and departures of the Alster ferries. Otherwise, the area is rather quiet.
Cultural highlight
Uhlenhorst is well-served culturally and boasts a number of theaters. There is the Ernst Deutsch Theater, The English Theatre that shows plays only in English, and the Fundus Theater, a children's theater. Another cultural highlight is the Literaturhaus. Housed in a beautiful villa, they hold monthly readings of international contemporary literature.
Leisure
There is excellent window-shopping along Hofweg, Papenhuder Straße, Lübecker Straße or in the Hamburger Meile shopping center. There is also a farmer's market with fresh produce twice a week. This can be found on the tree-lined street called Immenhof.
If you just want to enjoy the peace and quiet, green surroundings, and views of the water, simply grab a picnic basket and a blanket. You can also rent a kayak or go for a jog. There is a lot to see during a walk around the Alster. Artists and photographers will find no lack of subject matter, and although Hamburg is not known as the city of love, we do have our very own bridge with "love locks."
You can get here from the city center in just a few minutes on the U3 subway, or you take one of the several bus lines.