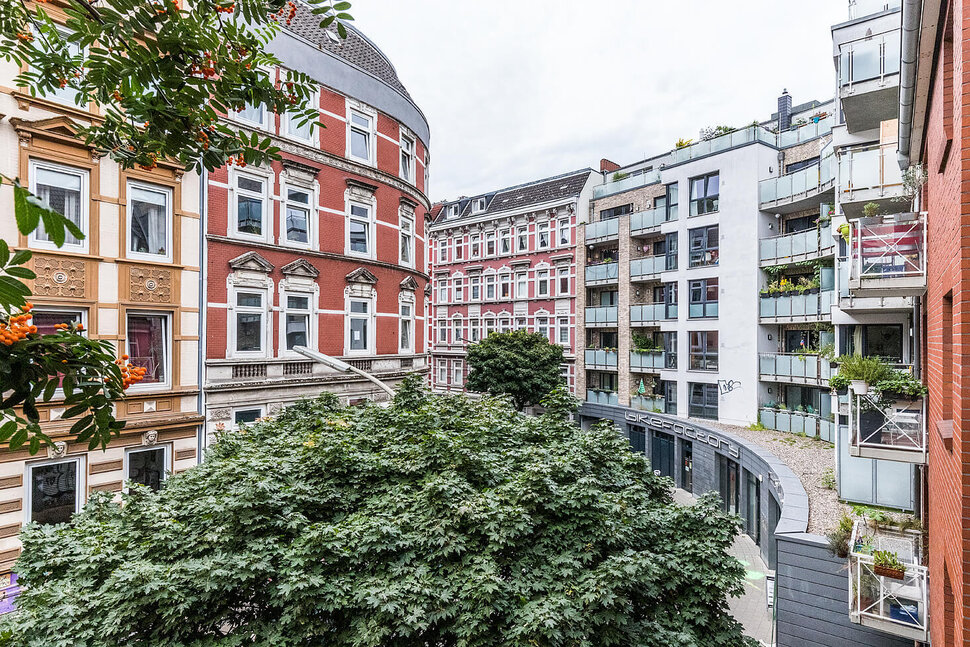 Temporary housing in Hamburg-Sternschanze, how is living here?
With its interesting shops, greengrocers, pubs and stylish restaurants, one encounters a hip, colorful and cheerful crowd in Hamburg's Sternschanze (often simply referred to as "Schanze").
The "Schanze" is notable for its old buildings with a certain shabby-style, green courtyards and repurposed factory buildings. Because of the cozy atmosphere and central location, apartments are particularly popular here, especially among young people. Rents used to be low but those days are gone as older buildings are extensively renovated and then sold or rented at premium prices.
Short Profile Hamburg-Sternschanze
lovely Jugendstil buildings, some of which are restored and listed
very popular area
many media companies, labels and promoters are based here
bars and restaurants to meet every taste
celebrity chef Tim Mälzer's Bullerei restaurant in the old meat packing district
beer and artisanal breweries
Mövenpick hotel in the converted historic water tower – Swiss breakfast in Hamburg
the famous, to some infamous, Rote Flora cultural center as well as demonstrations, festivals and street culture are an integral part of the "Schanze"
Zomia – a caravan colony which also serves as a venue
small independent shops
local designers present their decorating trends
poetry slam in the Bunker at Feldstraße
nighttime flea market at the Sternenbrücke
open air cinema in Schanzenpark
Always something going on
If you walk down Schulterblatt, the heart of Sternschanze, you'll see loads of people hanging out, chatting, and enjoying everything from Turkish food to alternative soft drinks. Students and business people enjoying their lunch breaks, a fruit vendor in front of her booth, and streets teeming with tourists and artists. No matter what time of day, you can find people from all over the world in this trendy neighborhood.
Culinary mix
In culinary terms, there is something for every taste and budget in Sternschanze. You could go for a German breakfast at Omas Apotheke, have a tarte flambé for lunch, and sink your teeth into a steak at the Bullerei, run by celebrity chef Tim Mälzer, for dinner. Portuguese restaurants, falafel and kebab stands, homey pubs, pretty cafés, and trendy bars (such as the Berliner Betrüger) coexist harmoniously.
Shopping
If you feel like a small (or large) shopping spree, you are in the right place. The unique boutiques and small shops with surprising interior décor ideas and contemporary art give the area a special atmosphere and may inspire you to try something new.
Culture and leisure
For jogging, walking or romping with the kids, head over to the Schanzenpark. There is lots of open space and a large playground. In the summer you can bring a blanket and enjoy open-air movies and concerts. In the winter you can see sophisticated films outside the mainstream at the art house cinema Kino 3001. The Schanzenfest music festival takes place once a year. You can see many well-known bands and perhaps discover a new favorite. It is definitely never boring in Sternschanze!
At the traditional flea market (Flohschanze), some of the dealers have been setting up their stalls for 10 or 20 years. This has inspired others, such as Lisa and her sister, to keep up tradition and the district's uniqueness in their own shop where they sell lovingly refurbished antiques.