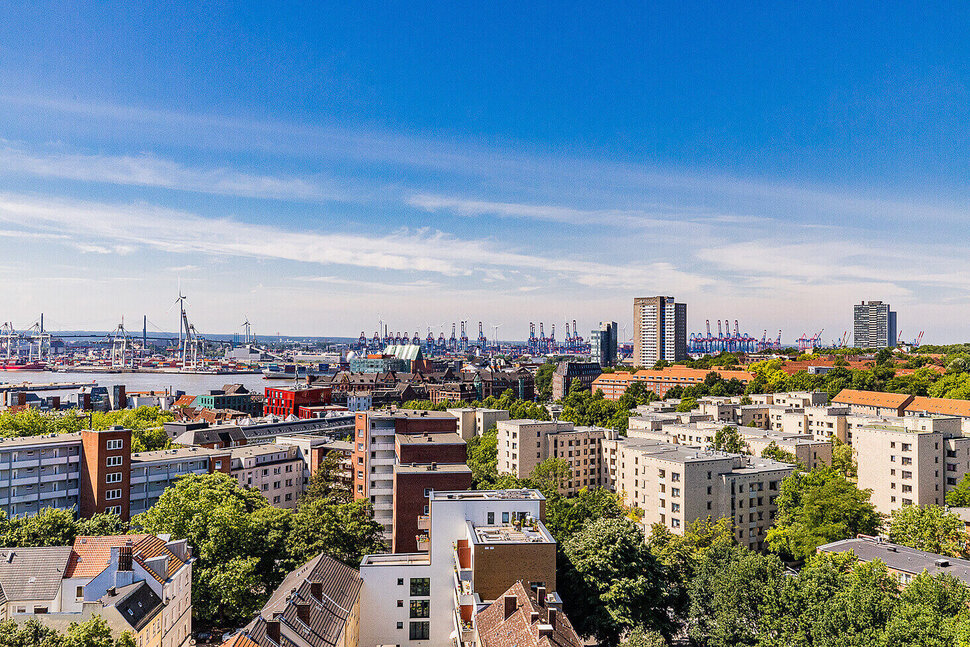 Temporary housing in Hamburg-St.Pauli, how is living here?
The whole world flocks to St. Pauli's streets, especially to its clubs and pubs around the Hans-Albers-Platz. This is the place to party, especially on weekends. If you like excitement and variety, this is the place for you. You can even avoid most of the tourists if you head for side streets such as Hamburger Berg. You're most likely to find students hanging out there.
Short profile Hamburg-St.Pauli
a mix of older Art Nouveau apartment buildings and grungier ones with St. Pauli charm
modern architecture and business district
there is always something going on!
colorful, flashy, open and upbeat
clubs, bars, and restaurants on every corner! (You live here, you live in the party district!)
looking for culture? Try the St. Pauli Museum, Schmidts Tivoli, the waxworks and the Operettenhaus
Reeperbahn Festival with lots of music and podium discussions about music culture
different events at the Spielbudenplatz such as food markets or the Christmas market
specialty stores to meet all tastes and interests
St. Pauli Stadium, home of the famous St. Pauli soccer club
St. Pauli is more than just the Reeperbahn. Some side streets are very quiet
located near the large "Planten un Blomen" Park where you'll find many attractions: picnic grounds, flowers galore, roller skating, ice skating, concerts, water and light shows, and delicious ice cream.
Living in "Pauli"
St. Pauli has many faces: facades with graffiti, modern architecture (check out the "Tanzenden Türme" or the Riverside Hotel), old buildings which could use renovation, brick buildings, and well-preserved Wilhelminian buildings surrounded by trees (such as around Paulinenplatz). If you're in search of something off the beaten track, in a nice residential area with refurbished old buildings, cozy pubs and cafés, the area around Hein-Köllisch-Platz is just right.
The whole world – living door to door
The atmosphere in St. Pauli is a bit grungy and very relaxed. Long-established St. Pauli residents, party-hungry students, Greek and Turkish immigrant families, club owners, young couples with and without children, up-and-coming advertising creatives, and bon vivants live peacefully side by side. The tourists moving among them bring even more international flair to the multicultural neighborhood.
Pure hamburg
The Landungsbrücken on the Elbe are a big tourist magnet. Here you can feel why people in Hamburg refer to their city as the "Gateway to the World." The waterway bustles with gigantic freight ships loaded with containers, pretty sailboats, and tugboats. You can attend one of the regular events on the famous "Cap San Diego." It is also worth a trip down into the historic tunnel under Elbe, which can be visited for free.
The neighborhood that never sleeps
In St Pauli, countless pubs and clubs of every stripe turn night into day. Interesting theaters such as the Schmidts Tivoli or the St. Pauli Theater promise fun-filled evenings. The Operettenhaus shows musicals, and you can attend a small or large concert in any number of clubs. For additional entertainment, check out the carnival called the Hamburger Dom which takes place three times a year on the Heiligengeistfeld. The Schlagermove and the Reeperbahn Festival are large events which take place once a year.
The food on offer in this neighborhood is just as diverse and contradictory as everything else! From German Currywurst to haute cuisine, you will find culinary delights from all over the world.
Travel by train or boat
We suggest taking the U3 from Landungsbrücken to the Rathaus (and back), so you can enjoy wonderful views of the harbor. There are also ferries operated by the HVV (local public transport) which leave from the Landungsbrücken. You can take any of these for an impromptu, inexpensive tour of the Elbe.
Park Fiction is not your ordinary park
Located high above the promenade along the Elbe, "Park Fiction" is a small park that was revitalized in a cooperative effort between city-planners and residents. Many of residents' and park visitors' wishes were honored and implemented. There are, for example, wonderful sunbeds where you can relax and enjoy the view. An excellent idea as the park is directly opposite the harbor with its shipyard, cranes, boats, and seagulls. You can also glimpse the landmark Köhlbrandt suspension bridge on the horizon. There are both grassy parts and a flat area for those who want to be physically active. An evening visit is also worth your while, perhaps after having a drink in the area. Speaking of which, the legendary Pudel Club is located directly below the park.