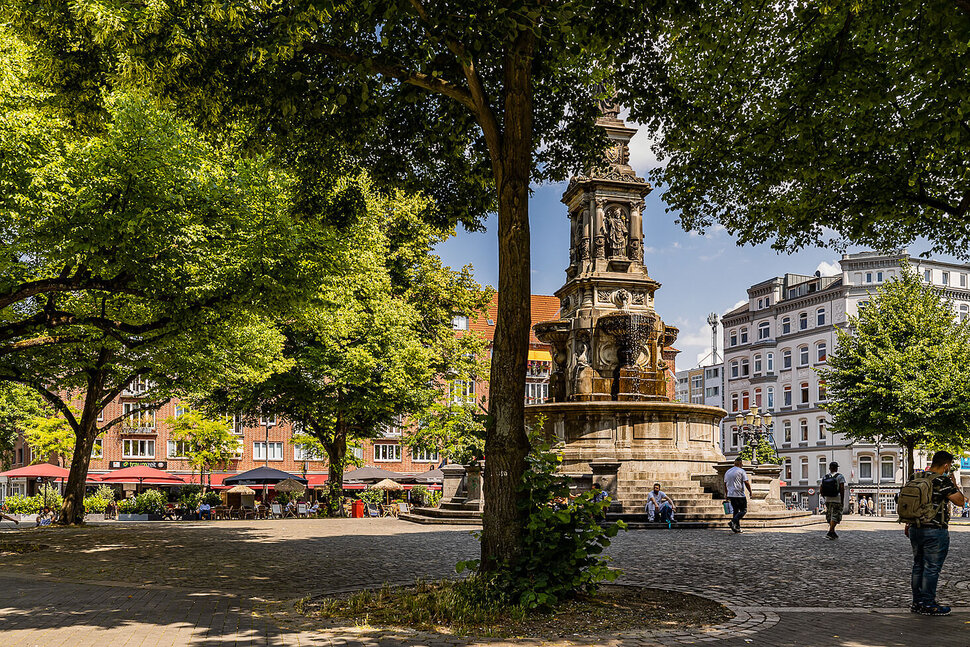 Temporary housing in Hamburg-St.Georg, how is living here?
Hamburg-St.Georg has a lot of architectural contrasts: beautiful Art Nouveau buildings and half-timbered houses on the Lange Reihe, residences and grand hotels on the Alster as well as social housing behind Steindamm. Everyone, different cultures, subcultures, religions, age groups and lifestyles, tolerates one another in this colorful bastion of coexistence. "Live and let live" and "love is love is love is love" seem to be the unofficial mottos of the area, and the Christopher Street Day parade takes place once a year. St. Georg is one of Hamburg's most popular places to live.
Short profile Hamburg-St.Georg
most central district of Hamburg, in direct proximity to the main train and bus stations
close to downtown, Mönckebergstraße
Alster Lake
sailing, canoeing, kayaking
beautiful Art Nouveau buildings
half-timbered houses on the Lange Reihe
Social housing behind Steindamm and on Hansaplatz
exclusive houses and sumptuous villas facing the Alster
many historical buildings are being converted into condominiums
multicultural, subculture scene, tolerant coexistence, increase of yuppies
Schauspielhaus, Cinemas
Museums
birthplace of Hans Albers
good shopping on the Lange Reihe and Koppel
many exotic grocery stores
Colorful life
The heart of St. Georg is the Lange Reihe. It is lined with cafés, pubs and restaurants (from upscale to rustic), but these are happily interrupted by an Indian supermarket, an instrument store, small boutiques and hairdressers. Above the street level, people live in Art Nouveau or half-timber buildings. In the last few years, many of these apartments have undergone major renovations. This is why prices have risen rapidly. Depending on the proximity to downtown and the Alster, rents fluctuate. With a little luck you will still find more affordable housing in the district. You can find many furnished apartments here nowadays, but they get snapped up very quickly.
Going out and culinary delights
Like everything in St. Georg, the cultural offerings are many. It is not always easy to decide! Take your pick of various cinemas (including the English-language-only Savoy Kino on Steindamm), the Kunsthalle, the Museum of Arts and Crafts, and the Deutsche Schauspielhaus The Koppel 66, a former factory, is now the creative home for designers (jewelry, fashion and furniture), photographers, painters, bookbinders as well as the GEDOK art forum.
We highly suggest taking a break in a Portuguese Café on the Lange Reihe. You can enjoy a piece of quiche, or a toasted croissant with ham and cheese, or a Nata (a puff pastry filled with vanilla custard). It is the perfect place to sit comfortably and enjoy some people watching. No neighborhood is more colorful. In early August, expect it to rain candies when the CSD moves down the street.
Relaxation and exercise
For a bit of fresh air and relaxation, the Alster is right around the corner. No matter what the season, people come here to jog, walk, cycle or simply enjoy the views. You can also go sailing, kayaking, etc. In the summertime, the green areas are dotted with blankets and picnic baskets. If you're lucky to be here during a very cold winter, the Alster may freeze over and you can go ice skating!
Exotic shopping
Even though you can easily walk to the city center and its big shopping streets from here, you can get everything for your daily needs in St. Georg itself. The lovely window shopping on Lange Reihe and Koppel are an added bonus.