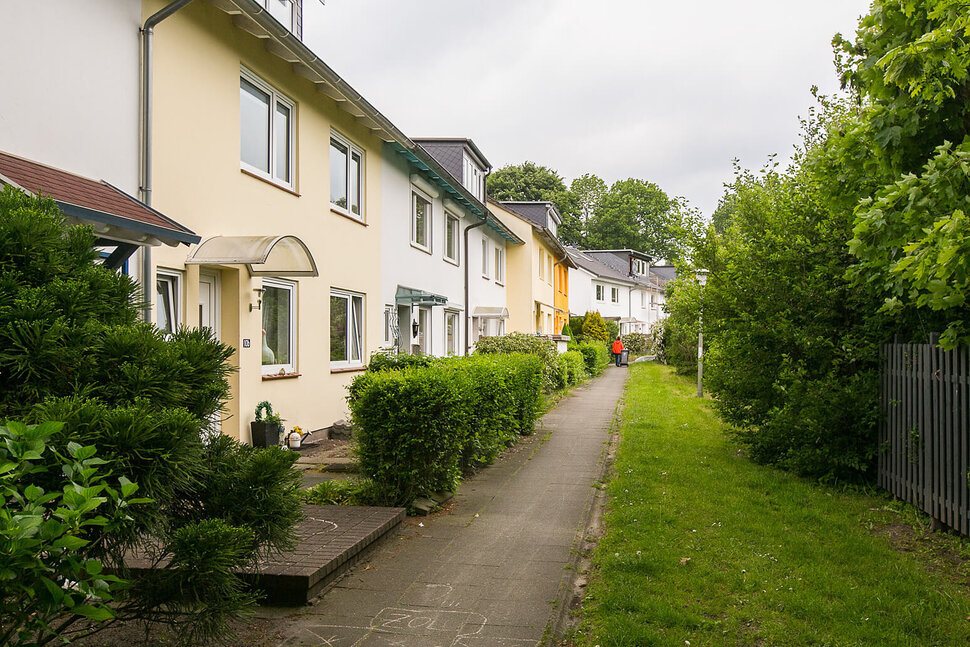 Temporary housing in Hamburg-Schnelsen, how is living here?
When you are in Schnelsen, it is easy to forget that you are in a big city. This purely residential area is particularly popular with families and those who appreciate both a small-town atmosphere and proximity to nature.
Schnelsen has many different kinds of housing. There are modern terraced and single-family homes in the Märchenviertel (an area with street names from fairytales), beautiful Gründerzeit villas, a handful of old farmhouses, and even rental estates that are well integrated in the area.
Short Profile Hamburg-Schnelsen
Situated on the border of Hamburg and Schleswig-Holstein
A colorful mix of villas, local shops, commercial and residential buildings from the 1970s
There are still a few old farmhouses
2 motorway access roads, ideal for commuters
Shopping on Frohmestraße
Easy access to one of Hamburg's 3 IKEA stores
Sports and Leisure
Residents go shopping on Frohmestraße, what was formerly the village center. Here you will find many shops both large and small. The IKEA store can be seen from afar by its illuminated sign and has become a district landmark. Schnelsen is also known for the ModeCentrum Hamburg. Any clothing you buy in Hamburg and the surrounding area was probably ordered here.
Horse lovers will feel at home in Schnelsen. In and around the district you will find generous pastures with stalls. In addition, the Kollauwanderweg and the Feldmark around the Röthmoorgraben invite walkers, joggers and cyclists to come out and get moving.
The local community center provides cultural activities with various courses and events. "Pro Cultura" offers readings, concerts and discussions for cultural enthusiasts.
Transportation / getting around
The two A7 motorway entrances are perfect for commuters. Public transportation patrons have various bus lines and AKN stations that are well connected to the public transport network. The Hamburg city center can be reached in about 30 minutes.