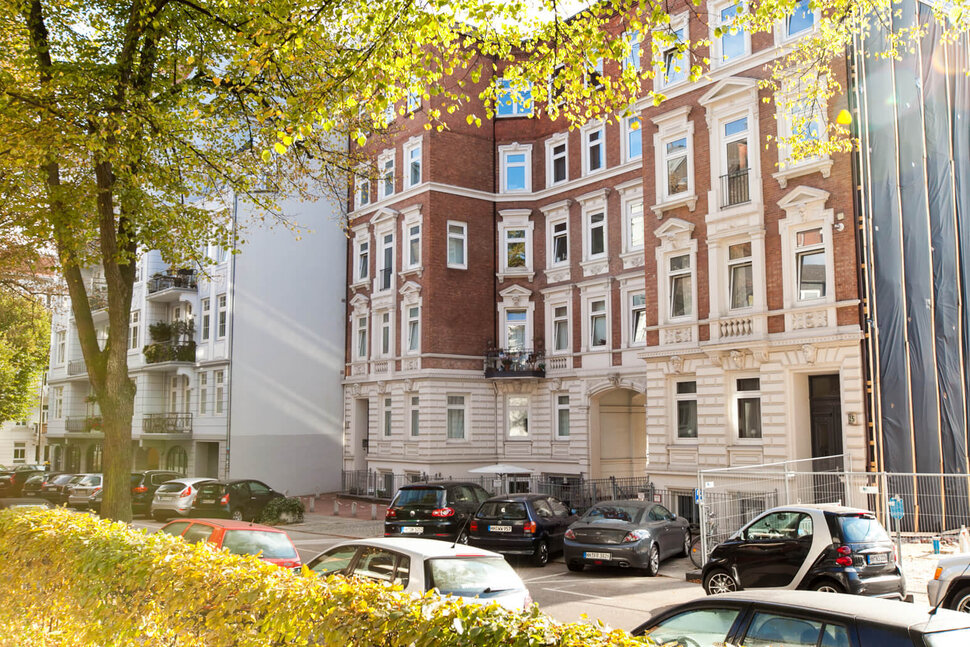 Temporary housing in Hamburg-Rotherbaum, how is living here?
The Rotherbaum district is one of Hamburg's true gems. Many doctors, lawyers, businesspeople and advertising executives live here, but also students who appreciate the proximity to the university and keep the area bustling. Rotherbaum is characterized by the university, by its central location west of the Alster Lake, and by its immediate proximity to both downtown and the convention center.
The small section of the neighborhood called Pöseldorf captivates visitors with its narrow streets lined with both modern and historical villas. The tennis stadium am Rothenbaum is directly opposite. The high quality of living is combined with good shopping and entertainment possibilities. From cafés to pubs to exquisite restaurants, there is something for every taste.
Short profile Hamburg-Rotherbaum
verdant, upscale neighborhood, near downtown
close to the Alster Lake and paths along the shore
imposing townhouses, beautiful villas and Jugendstil buildings
the historical landmark apartments on Grindel (Grindelhochhäuser)
the University with its student-driven vitality and diversity
consulates and embassies
good shopping, Pöseldorf
lots of cultural happenings - Abaton art house cinema, Ethnology Museum (MARKK), Kammerspiele Theater, Live Club Logo
various farmer's markets
distinct culinary scene
world-class tennis stadium
Max Planck Institute, media companies
good transportation connections, poor parking
Opposites attract
Gorgeous villas and historical buildings with high ceilings and stucco characterize this area. Many homes are situated in quiet, tree-lined side streets near the banks of the Alster. Because of its small historic streets, the idyllic and well-maintained Pöseldorf area feels like a small village. You can find art galleries, luxury boutiques, antique shops and expensive restaurants on the popular Milchstraße.
The colorful and lively student district is a wonderful contrast. Around the campus you will find cafés and pubs, bookstores, second-hand shops, art-supply stores, but also small boutiques and galleries.
Culture and counterculture
The district has two legendary art house cinemas, Abaton and Holi. If you like rare or unusual films, you can often see them here in the original language, with or without subtitles. The Live-Club Logo, the Kammerspiele Theater, the Ethnological Museum (MARKK) and numerous events at the University provide a broad and eclectic range of cultural offerings.
High-class workouts
In an upscale, diverse neighborhood such as this, suitable sports are a necessity. The Alster Lake is ideal for sailing, rowing, kayaking, or for jogging and biking along the trails. If you follow tennis, you'll recognize Hamburg's tennis club in Rothenbaum. The Hamburg Tennis Masters take place yearly, so you can schedule a game on the center court and play where the professionals do. There are a number of traditional hockey clubs, but also many sports you can try without becoming a member. The sports take place both on and off the water, but you'll always be in good company if you simply go for a run around the lake.