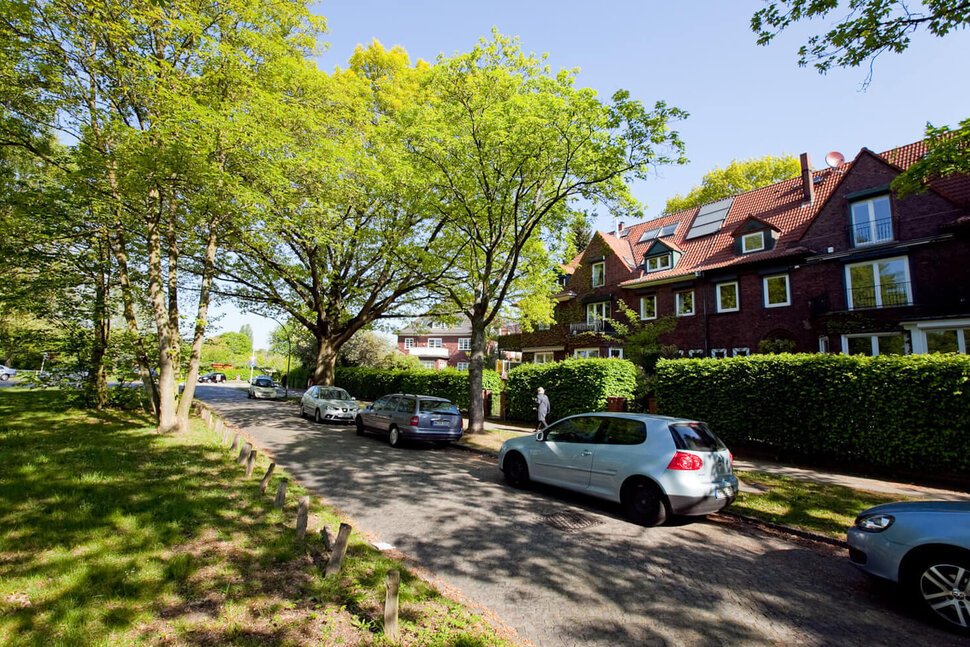 Temporary housing in Hamburg-Alsterdorf, how is living here?
Anyone strolling through the neighborhood realizes immediately that green and blue are the dominant colors. There is a sense of space because the buildings seem almost to recede from the boulevard-like streets. Alsterdorf is a quiet residential area with lots of green spaces. The Alster River flowing through the whole district gives it that special something and makes the garden city very popular. Young families in particular are attracted to Alsterdorf. The architecture here is pleasingly varied and has something for everyone: pretty villas, single and multi-family homes, apartment buildings, art nouveau buildings, and red-brick buildings.
Short profile Hamburg-Alsterdorf
borders on Winterhude, Eppendorf and Ohlsdorf
The Ohlsdorfer Friedhof is Europe's largest cemetery that also doubles as a local park
green spaces, many waterways, dignified and quiet
Alsterdorf has many villas on large plots that end in a private pier on the river. There are also some apartment buildings, both newer modern ones and brick buildings
crisscrossed by many canals
super jogging trails along the Alster and some boat rentals offer stand-up paddling
Farmers' market every Friday on Alsterdorfer Marktplatz!
Shopping and eating out in Hamburg-Alsterdorf
The place to meet is the Alsterdorfer Marktplatz. In addition to having supermarkets and drugstores, this is where the weekly farmer's market and seasonal events happen. Shoppers can also head over to Borsteler Chaussee or near the S-Bahn station Wellingsbüttel. If you'd like to eat at the oldest restaurant in Hamburg, visit the "Friedenseiche" in Wellingsbüttel. Public transport from Alsterdorf is quick and easy. It only takes about 15 minutes to reach downtown or the Hamburg Airport (especially good for businesspeople).
Sports and Leisure
What the Elb is to West Hamburg the Alster is to the North! The Alster flows through a number of neighborhoods, so it is no wonder that water sports are popular. Stand-up paddling is the latest way to experience the river and its canals.